Link Mazes
In these mazes you can jump between two symbols that are either the same shape, or the same colour. You can jump horizontally or vertically, but not diagonally.
Here's a simple example. Start at the green square in the top left-hand corner, and find a route to the pink plus sign in the bottom right-hand corner: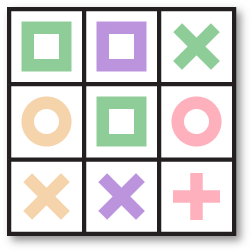 From the starting square you can move right to the purple square, or to the green cross. Then from the purple square you can move down to the green square or the purple cross, and so on. Here's the full 6-step solution: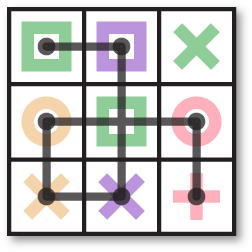 Try the following basic Link Mazes:
The following harder variants of the Link Mazes incorporate additional rules:
No U-Turn Link Mazes
These mazes are like the Link Mazes, except that you may not make a U-turn by jumping straight back in the direction you've just come from.
Alternate Match Link Mazes
In these variants of the Link Mazes you alternate between matching shapes and matching colours on successive jumps. This additional rule converts the ordinary Link maze into a state maze in which it may be necessary to visit a square twice.
Toggle Direction Link Mazes
In these variants of the Link Mazes some cells are marked with a circle to indicate that these change the way you move. You start out making horizontal or vertical jumps between matching shapes or colours, but when you reach a circle you switch to moving diagonally, and so on.
Alternate Link Mazes
In these Link Mazes you must alternate between plain and circled shapes.
Wildcard Link Mazes
These Link Mazes add a wildcard that mimics the previous shape and colour you were on.