Arrow Mazes
In these mazes you follow the arrows. From each arrow you can move to any of the arrows it's pointing to, in the same row, column, or diagonal.
Here's an example. Start at the arrow in the top left-hand corner. This arrow points to two further arrows. Choose one of these and move to it. Continue, following the arrows, until you reach the target in the bottom right-hand corner.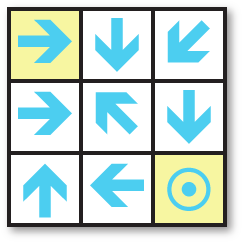 Well, from the starting position you can move to either of the other arrows in the top row. From the rightmost of these you can move to the bottom left-hand corner. Then, in three more steps you're home: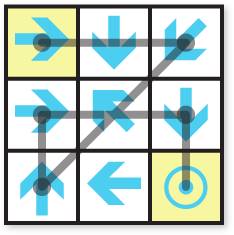 Try the following basic Arrow Mazes:
The following harder variants of the Arrow Mazes incorporate additional rules:
Change Colour Arrow Mazes
In these variants of the Arrow Mazes you must always move to an arrow that is a different colour from the previous arrow.
Pattern Arrow Mazes
In these Arrow Mazes you must follow the arrows in a specified sequence of colours.
Reverse Arrow Mazes
In these variants of the Arrow Mazes you switch between following tails rather than heads when you reach a cell marked with a circle.